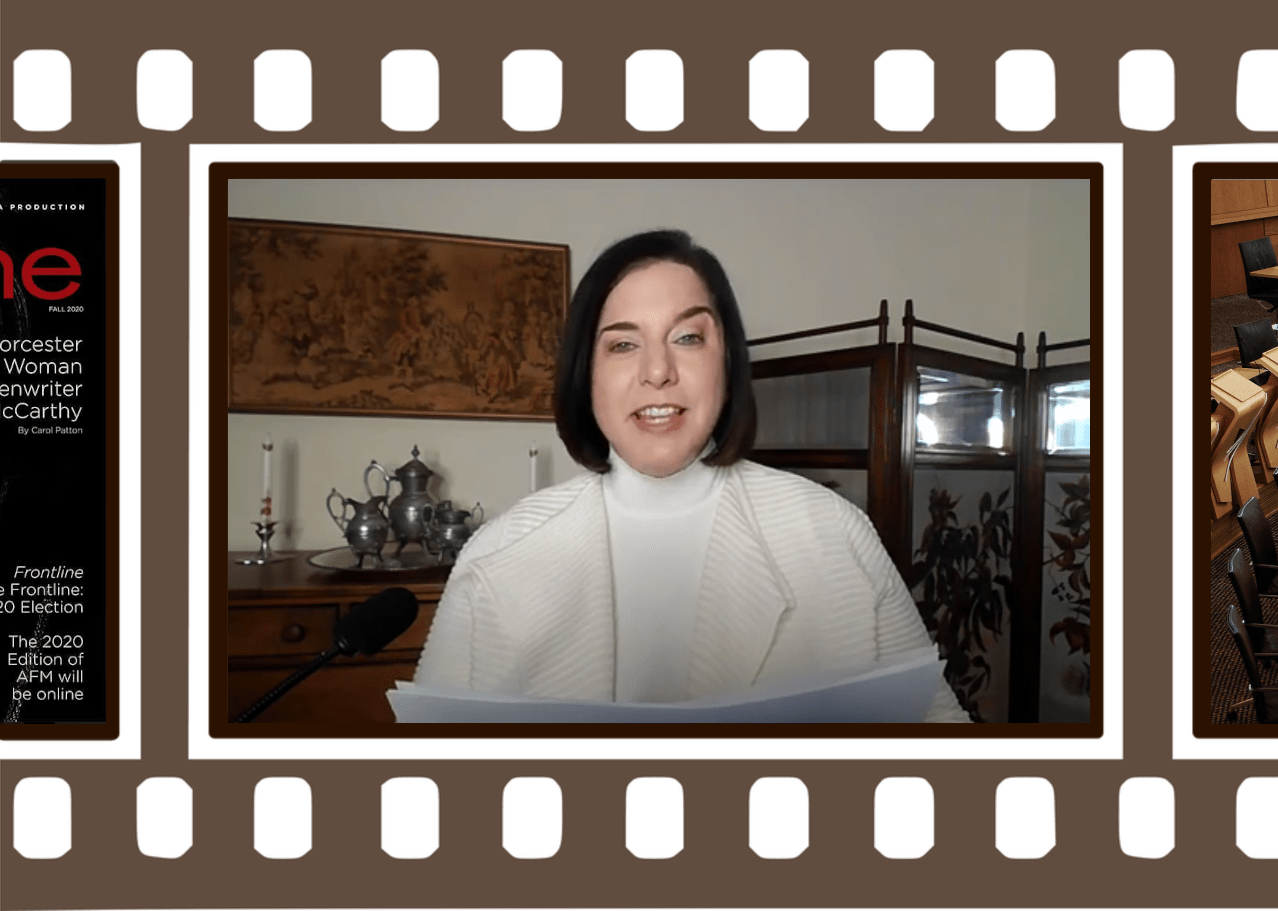 Speech by Caitlin McCarthy, DES daughter, screenwriter of WONDER DRUG, to the Scottish Parliament: a historic moment for the DES cause
Caitlin McCarthy lives in Worcerster, USA. She is a teacher and the screenwriter of Wonder Drug, a highly anticipated movie about the DES drug disaster set to be produced by Rhino Films. We have had the opportunity to interview her last year, so if you haven't yet, we invite you to read the journey of this "Wonder" woman – as she was dubbed by Imagine Magazine – by visiting the following link: No one comes out of this "Wonder Drug" unscathed – Interview with screenwriter Caitlin McCarthy, where we spoke about her own experience DES Daughter, her commitment, her feature film (coming soon!) and her future projects.
And because the fight still finds her, recently, DES Activist Caitlin McCarthy has given testimony to members of the Scottish Parliament.
In her pre-recorded statement, Caitlin McCarthy denounced not only the DES Tragedy, often compared to Thalidomide, but also the less known Forced Adoption Scandal.
This is why we thought it was necessary, before letting you listen to Caitlin McCarthy's historic speech, to provide some chronological, historical and social details in order to contextualize these different scandals, and allow you to better understand the importance of her speech.
Brief history of the DES Drug Scandal in France and abroad
DES – for DiEthylStilbestrol – is a synthetic estrogen created in 1938 in England by a team of researchers led by Sir Charles Dodds. Since its inventor did not file a patent, DES was cheap and easy to produce and was therefore manufactured and marketed by different pharmaceutical companies under different brand names in many countries.
In France, DES was sold from 1948 onwards under the brand names Stilboestrol-Borne®, Distilbène® and Furostilboestrol®. It was prescribed to pregnant women to prevent spontaneous abortions, risks of prematurity and to treat gynecological hemorrhages. It has also been prescribed to inhibit lactation, i.e., to artificially dry up milk after childbirth.
→ Here is a complete list of indications for diethylstilbestrol for Human use
A study by W.J. Dieckmann1 revealed, as early as 1953, that DES was totally ineffective in pregnant women for all its indications. And yet... the marketing and prescriptions of DES continued. In French, we have a phrase: "On n'arrête pas le progrès !" which can be translated by "Progress cannot be stopped!".
In 19702 and 19713, A.L. Herbst published two studies revealing an increased incidence of a very rare type of cancer in young women exposed in utero (while in the womb) to DES: Clear Cell Adenocarcinoma (CCA) of the Vagina or Cervix.
Following these studies, the FDA (Food and Drug Administration) issued an alert indicating that DES is from now contraindicated in pregnant women.
France, perfectly informed… turned a blind eye! It was not until 1976 that the French Ministry of Health removed the indication "threatened abortion" from the Vidal dictionary, and 1977 that the French Agency of Health Products published a release stipulating that manufacturers' leaflets must henceforth indicate that DES is contraindicated in pregnancy – thus making thousands of additional victims…
Indeed, already responsible for clear cell adenocarcinomas in DES Daughters, DES has proven to be toxic not only for the "DES Mothers" but also for the children exposed in utero and their descendants: cancers, birth defects, psychiatric disorders, neurodevelopmental disorders, changes in gene expression... the list is long.
Establishing proof of DES exposure is difficult enough, especially when the original prescription was not kept (or when the file was unfortunately "lost" by the hospital), but it is important to know that abroad, especially in the United States, pregnant women have consumed it without their knowledge: indeed, certain prenatal vitamins contained DES.
Still abroad, DES has been prescribed to perfectly healthy teenage girls deemed "too tall" to inhibit their growth4.
In the United Kingdom, DES has been prescribed to women to dry up their breast milk after their baby were taken by the Child Protection/Welfare System. A little known double-scandal that we will tell you.
The double scandal of Forced Adoption
In the United Kingdom, tens of thousands of children are forcibly removed from their families each year. In the United Kingdom, tens of thousands of children are forcibly removed from their families each year. One third of these children are reportedly wrongfully taken away from their parents: not because they are neglectful or abusive, but because they could potentially be in the future.
The scandal began in 1989 with the Children Act – under Margaret Thatcher – which introduced the notion of "likelihood of harm". This law, which gives full powers to the UK social services, allows, on the mere "risk" of future and hypothetical abuse5, to initiate the process of removing a child. Thus, it is no longer necessary to prove abuse to remove a child from her or his biological parents.
Under Tony Blair, a case of child abuse involving the social services – accused of not acting early enough – compelled the British government to intervene. The government demanded them to act upstream and required the counties to reach a certain quota in regard to the number of babies surrendered to the adoption system. The procedures are entrusted to local authorities who are encouraged to remove as many children as possible by financial bonuses and quotas to meet.
This Kafkaesque situation becomes more complex as the children are entrusted to private agencies listed on the stock market6: they are then displayed as simple goods in a shop window on websites in order to be adopted by childless couples.
It is clear that we are dealing with institutional abuse committed by a Child Welfare System that slides off the rails, increasingly subjected to a logic of profitability7. And the slide easily happens: financial fragility, precariousness, or single-parent families, having a depression, taking a child to hospital,... many situations that can be subject of a "potential risk for the child" report by Social Services8.
It is hard to imagine this happening in a Western country by a government agency that is supposed to safeguard children but that happens to be at the root of all the abuses and neglects. Indeed, children removed from their homes feel abandoned, isolated, they are traumatized, as well as their family and close relatives. Moreover, these families are threatened with legal sanctions5 when they try to prevent these expedited adoption proceeding, which sever all ties with the biological parents.
A "duty of silence"9 (Gag order) goes so far as to prevent families from mentioning the name of the child who has been "stolen".
Children are almost systematically separated from their siblings for no good reason. Youngest children are adopted, while the others are placed in foster families where abuse and maltreatment are strikingly common. Some even end up in criminal pedophile networks. As a result of a devastating discriminatory social policy, abuse is becoming systemic and systematic.
All these dysfunctions in the UK Child Welfare System have finally alerted the United Nations. In June 2016, the UN Committee on the Rights of the Child summoned representatives of the UK Social Services to explain themselves about the abuse of children in care10. As a result of these hearings, in July 2016, the UN Committee on the Rights of the Child issued a written report entitled "Conventions on the Rights of the Child", outlining these unacceptable and traumatic situations that have punished entire families who had not committed any crime.
But wait... There is more! Unwed mothers forced to give up their newborn babies for adoption were then given DES to dry up their breast milk11. Babies taken from mother at birth, DES poisoning, making DES a scandal within "the scandal of stolen children" – as the French media dub it. A double punishment for these mothers who had done nothing wrong, but who were suspected of future and hypothetical abuse or neglect of their children.
Diethylstilbestrol: the "hidden Thalidomide"
In some countries, particularly in English-speaking countries, the "Scandale du Distilbène" – as it is dubbed in France – is often referred to as the "Silent Thalidomide" or the "Hidden Thalidomide", in reference to another medical scandal: that of Thalidomide.
Thalidomide is a drug discovered at the end of the 50s and marketed in 1956 and until the 60s in about 50 countries, such as Germany – where it was first developed –, the United Kingdom, Japan and Australia.
If it has been marketed in Canada12, it has not in the United States because the FDA (Food and Drug Administration) refuse to approve it. Indeed, the drug was supposed to be completely safe, which was quite unusual. As no one expects a useful drug to be completely free of side effects, it raised the concern of Dr. Frances Oldham Kelsey – then an FDA expert – thus casting doubt on its safety.
If it has been marketed in Canada12, it has not in the United States because the FDA (Food and Drug Administration) did not approve it. Indeed, the drug was supposed to be completely safe, which was quite unusual. As no one expects a useful drug to be completely free of side effects, it raised the concern of Dr. Frances Oldham Kelsey – then an FDA expert – thus casting doubt on its safety.
Nevertheless, 2.5 million tablets had already been distributed to more than a thousand health professionals by the pharmaceutical company Marion Merrell Dow, firmly convinced that the FDA would authorize it. Thus, 200,000 people were given the drug, causing a dozen victims.
In France, if a visa had been granted to a national pharmaceutical laboratory in 1961, it was immediately withdrawn. Indeed, the French authorities reacted very quickly here (we would have liked it to be the same with DES), taking into account the terrible impact on the fetus reported by Germany. There is therefore officially no victim of Thalidomide in France.
It was prescribed as a sedative, and as an anti-nauseant to pregnant women. It was found to be teratogenic, i.e. harmful to fetal development. It thus caused serious birth defects in children, such as atrophy – or even the absence – of limbs.
It was definitively removed from the market in 1961.
However, Thalidomide never disappeared. It is still being studied throughout the world, notably to treat cancer or other invalidating and deadly diseases.
DES is often referred to as the "hidden Thalidomide" because its effects are less visible, more insidious. Some others call it the "Silent Thalidomide" because of its health impacts, not over one generation, as with Thalidomide, but across several generations.
Marion McMillan11, forced by UK Social Services 50 years ago to give up her baby boy for adoption and received 16 tablets a day of DES for almost a week to dry up her breast milk, said:
"I think [DES] is worse than Thalidomide because your subsequent children and grandchildren could be affected."
Marion McMillan is the mother of three more children but never forgot her firstborn. She is now suffering terminal cancer. She demands an official apology from the Scottish Government.
50 years after the first cases of birth defects caused by Thalidomide, Harald Stock – the chief executive of Grünenthal (the German inventors of Thalidomide) – has made an apology to the thousands of children born with disabilities13.
Survivors of Thalidomide said the apology was too little and too late.
Caitlin McCarthy's historic speech to the Scottish Parliament
Caitlin McCarthy recently addressed the Members of the Scottish Parliament. In her speech, available on Youtube, shes testifies about her experience as a "DES survivor", she relates the Forced Adoption Scandal to which DES exposure was added, advocates for change and carries the hope of all the generations of invisible and forgotten victims.
We are very happy to have made the French subtitles of her speech so as French speakers can understand it. A historic and moving moment, which we now let you discover:

Thank you so much Caitlin!
References
1 Herbst AL, Scully RE. Adenocarcinoma of the vagina in adolescence. A report of 7 cases including 6 clear-cell carcinomas (so-called mesonephromas). Cancer. 1970 Apr;25(4):745-57. doi: 10.1002/1097-0142(197004)25:4<745::aid-cncr2820250402>3.0.co;2-2. PMID: 5443099.
2 Herbst AL, Ulfelder H, Poskanzer DC. Adenocarcinoma of the vagina. Association of maternal stilbestrol therapy with tumor appearance in young women. N Engl J Med. 1971 Apr 15;284(15):878-81. doi: 10.1056/NEJM197104222841604. PMID: 5549830.
3 Blatt J, Van Le L, Weiner T, Sailer S. Ovarian carcinoma in an adolescent with transgenerational exposure to diethylstilbestrol. J Pediatr Hematol Oncol. 2003 Aug;25(8):635-6. doi: 10.1097/00043426-200308000-00009. PMID: 12902917. https://pubmed.ncbi.nlm.nih.gov/12902917/
4 [Online] DES Action. Other uses of DES - https://desaction.org/other-uses-of-des/
5 [Online] Scandale des adoptions forcées au Royaume-Uni - https://www.youtube.com/watch?v=3m8Ac5EuWJc
6 [Online] France Culture. Enfants volés d'Angleterre - https://www.franceculture.fr/emissions/les-pieds-sur-terre/enfants-voles-dangleterre
7 [Online] France TV Londres. Le scandale des abandons forcés - https://www.youtube.com/watch?v=UvRiDI6MUn4
8 [Online] Le Mag de la Famille. Scandale des enfants retirés à leurs parents en Angleterre - https://www.lemagdelafamille.com/article-7-enfants-retires-parents-etre-adoptes-angleterre.html
9 [Online] https://fr.wikipedia.org/wiki/Adoption_forc%C3%A9e
10 [Online] Télérama. Sur France 5, un documentaire dénonce les ravages du "Children Act" en Angleterre - https://www.telerama.fr/television/sur-france-5,-un-documentaire-denonce-les-ravages-du-children-act-en-angleterre,n6204452.php#0
11 [Online] Dailymail. Cancer timebomb of the anti-miscarriage drug given to 10,000 patients: Side effects of synthetic oestrogen have been passed on to daughters and granddaughters since the 1940s in 'scandal worse than Thalidomide' https://www.dailymail.co.uk/news/article-10363091/Shocking-health-timebomb-anti-miscarriage-drug-given-10-000-patients.html
12 [Online] Caméra 90 René Ferron producteur. THALIDOMIDE Créateur de Bébés handicapés - https://youtu.be/Vk-mcwyw6dw
13 [Online] RTS Info. Le producteur de la Thalidomide s'excuse mais peine à convaincre https://www.rts.ch/info/monde/4239159-le-producteur-de-la-thalidomide-sexcuse-mais-peine-a-convaincre.html